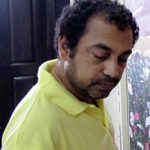 Born : Born in Kerala, 1966.
Education : Binoy did his National Diploma in Fine Arts from R.L.V College of Fine Arts, Kerala.
He was the artist-in-residence at Aicon gallery,new york in 2007; Banff Centre for Arts, Alberta, Canada in 2000 and Cholamandal Artists Village, Chennai during 1994-98.
Shows :
He has held Six one-man shows at New Delhi, Canada, Chennai. He has also participated in three Two-men shows and many group shows which include Reading Paint, Bangkok in 2007; Definitively Provisional II, Copenhagaun, Denmark; 11th Asian Art Biennale, Bangladesh in 2004; Miami Art Festival, Sponsored by Jacob Karpio Gallery Costa Rica in 1999; 41st National Academy Exhibition, Rabindra Bhavan, New Delhi in 1998.
Award :
He has received several awards including the National Award by National Academy of Arts, New Delhi in 1998; a fellowship from the Madhavan Nair Foundation, Kochi in1993 and a scholarship from the Arnawaz- Vasudev Charitable Trust from 1994 to 1996.
Collections :
Featured in India Art Fair, and auctions, his work is held in important collections including National Gallery of Modern Art, and Apollo Hospital in Delhi. He has also designed a stamp for the Postal Department, Government of India.
Style :
Known for his skills in portraiture, his subject matter comes in a mix of landscape and a photo-realistic rendition. The colourful imagery on paper and canvas, often in a large format, focuses on issues of displacement, capturing posing protagonists, often women and children, in their newfound domains against a background of made-up environment of thick foliage interspersed with bright flowers. Their socio-political and gender realities are highlighted by the dress they wear or the sharpness or softness of the background and foliage in the work. Binoy has participated in several national and international art camps and workshops. His work has been exhibited by well-known galleries in solo and group shows held in different Indian cities and abroad including Canada, USA, Singapore, Hong Kong, Dubai, Thailand, London, South Africa, Denmark, Italy and Dhaka amongst others.