Most often Two is better than One ! The Power of being in twos or Sets of more than one work, increases the importance of the work substantially. 
The Story Begins .. when the two works start interacting with one another, begin complimenting each other and become completely one with each other.
 Best viewed on the computer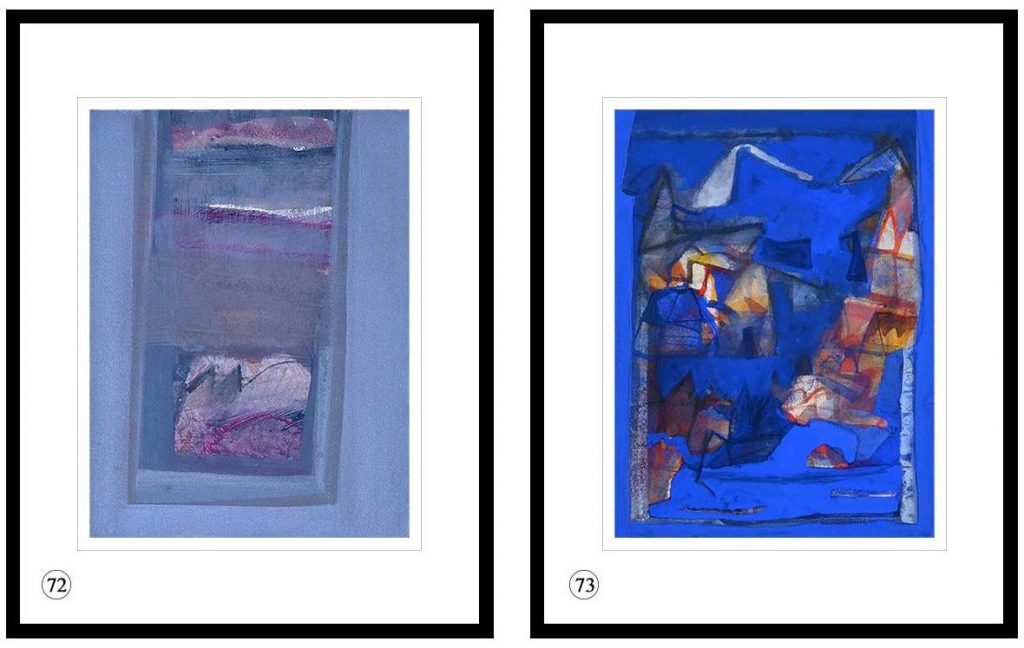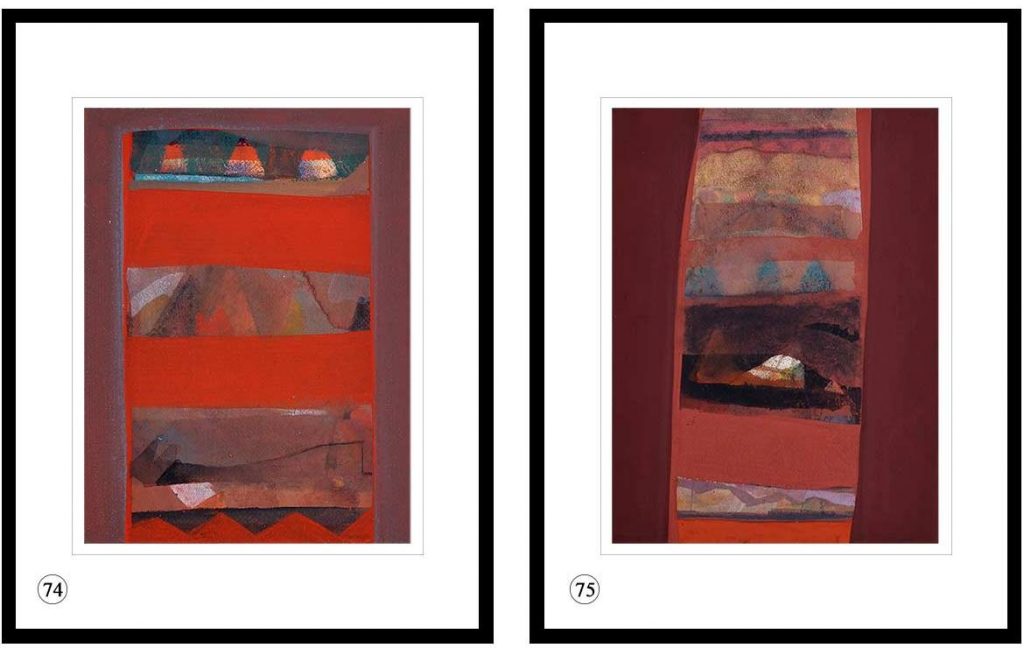 Tapas Ghoshal
Watercolor, Gouache, Powder Pigment on Arches Paper | 9x12 inches, 2014 ( Set of 2 ) INR 21000/- + GST 12%
Ghoshal's paintings weaves an Antahkaran, creating structural spaces, sometimes meditative ; melancholic in nature. His contemplative mind, enters into the inner realm of reality, dissects it and extracts a kind of mystic silence.


Education :
Graduated from Government College of Art and Craft with a first class first degree in 1989
Post Graduate from Beneras Hindu University
Tapas Ghoshal worked on both figurative and landscape paintings. Despite slight cubistic distortions in his figurative executions, he searched for an inward stillness of human consciousness through dichotomy of light and shade. His post graduation from Banaras Hindu University in 1992 transformed the course of his consciousness. The extant contemplative inwardness in him got charged with meditative spirituality through his association with this heritage city.
Tapas Ghoshal | Face Series (Set of Three)
Mixed Media on Canvas | 12x12 inches, 2014 INR 45000/- Plus GST 12 %
Tapas Ghoshal | Face Series
(Set of Two or Four)
Acrylic on Canvas | 12x12 inches
Set for 2 , INR 35000/- + gst 12%
Set of 4 : INR 60000/- + gst 12 %
Tapas Ghoshal | Cityscape Series
(Set of Two or Four)
Acrylic on Canvas | 12x12 inches
Set for 2 , INR 35000/- + gst 12%
Set of 4 : INR 60000/- + gst 12 %
Tapas Ghoshal | Cityscape Series
(Set of Two or Four)
Acrylic on Canvas | 12x12 inches
Set for 2 , INR 35000/- + gst 12%
Set of 4 : INR 60000/- + gst 12 %
Tapas Ghoshal | Abstract (Set of Two or Four)
Watercolour, Gouche, Powder Pigment on Arches Paper | 9x12 inches, 2014 Set of 2 : INR 21000/- + GST
Badri Narayan | House (Set of Two )
Ink on Paper | 5x5 inches, Circa
INR 1,00,000/- + GST
Akbar Padamsee | Face Series (Set of Two)
Chinese Ink on Paper | 15x11 inches, 2007
(Price on request)
Gouranga Beshai | Ganesha (Set of Two)
Watercolour on Paper | 22x22 inches, 2019
INR 45,000/- + GST
Gouranga Beshai | Ganesh Janani (Set of Two)
Mixed Media on Paper | 22x28 inches, 2019
INR 75,000/- + GST
Sekhar Kar | Flower Vase (Set of Two)
Mixed Media on Paper | 24x30 inches, 2014
INR 50,000/- + GST
Sekhar Kar | Faces (Set of Two)
Mixed Media on Paper | 9x11.5 inches, 2016
INR 30,000 (All inclusive)
Sekhar Kar | Faces (Set of Four)
Mixed Media on Paper | 11x14 inches, 2016 INR 51,000/- + GST
Sekhar Kar | Faces (Set of Four)
Mixed Media on Paper | 11x14 inches, 2016 INR 51,000/- + GST
Sekhar Kar | Faces (Set of Two)
Mixed Media on Paper | 11x14 inches, 2016 INR 30,000/- + GST
Sekhar Kar | Faces (Set of Four)
Mixed Media on Paper | 11x14 inches, 2016 INR 51,000/- + GST
JMS Mani | Badami People (Set of Two)
Acrylic on Canvas | 16x16 inches, 2019 INR 88,000/- (All incl.)
JMS Mani | Badami People (Set of Two)
Acrylic on Canvas | 16x16 inches, 2019 INR 88,000/- (All incl.)
Prokash Karmakar | Nude (Set of Two or Four), Ink on Paper, 20x28 inches
Abesh Bivore Mitra | Transformed Faces, Mixed Media on Thick Imported Paper, 11x15 inches
INR 23,000/- + GST (Set of Three)
Abesh Bivore Mitra | Transformed Faces, Mixed Media on Thick Imported Paper, 11x15 inches
INR 23,000/- + GST (Set of Three)
Rabin Mondal
Lady, Acrylic on Board, 13.8x10.6 inches, 2016 | Torso, Mixed Media on Paper, 24x19 inches, 2011

Dipali Bhattacharya | Portrait, Mixed Media on Canvas, 20x20 inches, 2004 & 2006 (Set of Two) INR 100000/-
Sunil Das | Penograph Series, Ink on Paper, 14x20 inches, 2013 (Set of Three) INR 310000/-
Sunil Das | Collage Series, Mixed Media on Paper, 12x13 inches, 2010 (Set of Three)INR 250000
Sunil Das | Collage Series on Foil, 16x23 inches, 2010 (Set of Two) INR 650000/-
Sunil Das
Ganesha Series | Pen & Ink on Paper, 7.25x9.25 inches, 2011 & 2012 (Set of Three) INR 250000/-
Sunil Das | Making Love Series
Ink on Board, 9.25x13.5 inches
Ink on Paper, 7x9.5 inches, 2011 (Set of Two) INR 90000
Sunil Das | Nude Series
Pen & Ink on Paper, 7.5x10.5 inches, 2010 &
7.5x10.75 inches, 2013 (Set of Two) INR 90000
Sunil Das | Erotic Series, Mixed Media on Hand Made Paper, 9.5x13.5 inches, 2002 - 2003 (Set of Two)
Sunil Das | Horse, Pastel on Sand Paper, 11x9 inches, 1950 (Set of Two or Four)
Kartick Ch. Pyne | Nude Series, Watercolour on Rice Paper, 18x29 inches (Set of Two)
Kartick Ch. Pyne | Fish Series, Watercolour on Paper, 30x22.5 inches & 30x20 inches
INR 1,25,000/- + GST (Set of Two)
Dewashish Das | Priest, Acrylic on Canvas, 24x24 inches (Set of Two) INR 75000 + gst 12%
Bikash Pradhan | Landscape, Water colour on Paper, 30x20 inches (Set of Two or Three) INR 90000/-
Aditya Basak | Innocence & Reindeer, Mixed Media on Canvas 10 x 10 inches (Set of Two) INR 75000
Sekhar Baran Karmakar | Cerebral, Water Colour on Paper, 6x6 inches (Set of Two) INR 25000
Ashoke Mullick, Bandwala, Acrylic on Canvas, 42x52 inches (Set of Two) INR 250000 + 12% GST
cover that empty wall with these outstanding large works that would work beautifully as a set and set the mood for that conversation in a party  
Ashoke Mullick, Charcoal on Paper, 12x14 inches, 2014 (Set of Two) INR 45000 + GST 12 %
Ashoke Mullick, Ink on Paper, 12x14 inches (Set of Three) INr 65000 + 12% GST
Prokash Karmakar, Nude Beach Series, Mixed Media on Paper, 7.5x8 inches (Set of Two or Four) INR 120000/- All in
Prokash Karmakar, Beach Series, Ink on Paper, 10x14 inches (Set of Three) INR 95000/- All In
Prokash Karmakar, Animal Series, Mixed Media on Paper, 10x13 inches (Set of Two) INR 55000 + GST
Prokash Karmakar, Landscape Series, Ink on Paper, 11x14 inches (Set of Two) INR 60000 All in SOLD
Sanat Kar (a) HO ! Tomorrow (b) Mother Surrealistic, Mixed Media, Charcoal on Paper, 18x22 inches, 2006
INR 2,90,000/- + GST (Set of Two)
Paritosh Sen, Acrylic on Board, 12x20 inches, 2005 INR 5,00,000/- (All inclusive) (Set of Two)
Samir Sarkar, Acrylic on Paper, 16x12 inches, (Set of Two) INR 24000/- All in
Sanatan Dinda | Nudes, Conte on Paper, 28x20 inches 2010 INR 2,50,000/- + GST (Set of Two)
Sanatan Dinda | Yugpurush | Conte & Dry Pastel on Paper | 20 x 28 inches | 2016 INR 3,99,000/- + GST (Set of Three)
Sanatan Dinda | Yugpurush | Conte & Dry Pastel on Paper | 20 x 28 inches | 2016 INR 3,99,000/- + GST (Set of Three)
Prasanta Sahu, Victim Series, Ink on Acid Free Paper, 15x11 inches, 2010 (Set of Three) INR 60000 All in
Prasanta Sahu, Mock Practice Series, Mixed Media on Paper, 15x11 inches, 2009 (Set of Three) INR 45000 All in
Jogen Chowdhury, Shaura, Terracotta, 12 inches (Dia), 2006 INR 2,00,000/- + GST (Set of Two)
Dhiraj Chowdhury, Urvasi Series, Charcoal on Paper, 12x12 inches INR 30,000/- + GST (Set of Two)
Dipen Bose, Watercolour on Paper, 7.5x5 inches, 1961-64 Recto-Verso INR 80,000/- + GST (Set of Four)
These are two sided works framed in a way that both sides can be displayed at ay time
Dipen Bose, Watercolour on Paper, 7.5x5 inches, 1961-64 Recto-Verso INR 90,000/- + GST (Set of Five) These are two sided works framed in a way that both sides can be displayed at ay time
Dipen Bose, Watercolour on Paper, 7.5x5 inches, 1961-64 Recto-Verso INR 80,000/- + GST (Set of Four)
These are two sided works framed in a way that both sides can be displayed at ay time
Dipen Bose, Watercolour on Paper, 7.5x5 inches, 1961-64 Recto-Verso INR 90,000/- + GST (Set of Five)
These are two sided works framed in a way that both sides can be displayed at ay time
Dipen Bose, Watercolour on Paper, 7.5x5 inches, 1961-64 Recto-Verso INR 90,000/- + GST (Set of Five)
These are two sided works framed in a way that both sides can be displayed at ay time

Indra Dugar, Ink on Paper, 10.5x8 inches, 1963-64 Recto-Verso INR 2,00,000/- + GST (Set of Five)
These are two sided works framed in a way that both sides can be displayed at ay time

Indra Dugar, Ink on Paper, 10.5x8 inches, 1963-64 Recto-Verso INR 1,75,000/- + GST (Set of Four)
These are two sided works framed in a way that both sides can be displayed at ay time
Indra Dugar, Ink on Paper, 10.5x8 inches, 1963-64 Recto-Verso INR 2,00,000/- + GST (Set of Five)
These are two sided works framed in a way that both sides can be displayed at ay time
Madhu Basu, Magma Series, Acrylic & Pigment on Canvas 21x25 inches (Set of Two or Four)
Madhu Basu, Magma Series, Acrylic & Pigment on Canvas 21x25 inches (Set of Three)
Pradosh Swain, Agreement Series, Mixed Media on Paper, 8.2x11.5 inches (Set of Three) INR 75000/-
Chandrashekhar Das | Horse Series, Bronze, 23x10x7 inches & 14x19x8 inches (Set of Two) 125000
Mohan Lal Majumder | Photo Print on Archival Paper, 7x7 inches (Set of Two) 15000 INR
Mohan Lal Majumder | Photo Print on Archival Paper, 7x7 inches (Set of Two) INR 15000
Mohan Lal Majumder | Photo Print on Archival Paper, 7x7 inches (Set of Two) INR 12500
Mohan Lal Majumder | Photo Print on Archival Paper, 7x7 inches (Set of Two) INR 15000
Mohan Lal Majumder | Photo Print on Archival Paper, 7x7 inches (Set of Two) INR 15000
Mohan Lal Majumder | Photo Print on Archival Paper, 7x7 inches (Set of Two) INR 12500
Mahajabin Majumder | Mixed Media on Thick Imported Paper, 11x15 inches (Set of Two) INR 30000 All in
Amitabh Banerjee | Day Dream. Etching on Paper, 10x6 inches, 1996 (Set of Two) INR 20000/-
Saikat Maity | Old Calcutta Series. Watercolour on Paper, 10x8 inches, 2017 (Set of Two or Three) INR 15000 All in
Saikat Maity | Old Calcutta Series. Watercolour on Paper, 10x8 inches, 2017 (Set of Two or Three) INR 11000 All IN