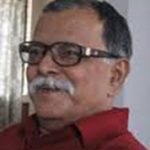 Born : 1943.
Education :
1966 : Diploma in Fine arts & crafts, Visva Bharati, Shantiniketan 1968 : Post diploma in painting from M.S University, Baroda. Participated in various Solo & Group shows.
Style :
He expresses his art through many different medium including small abstract vignettes scratched out postcards, large bas-relief assemblages on board, oil on canvas paintings as well as delicate yet powerful ink on paper works. For example a single line, straight and horizontal, can become the horizon, the hull of a boat, the division of two dimensional space or a roof top. Similarly twenty or more, streaming in parallel across a page, can create a flag, shimmering water or a rolling hill. These elements make his work instantly recognizable and extremely engaging.
Partha Pratim Deb's works show his individual humor and sharp wit. An anulgamation of humor, social reality and sensuality along with a creative playfulness is visible in all of his works. This is one of the many reasons why his work is praised both in India and abroad and his work is included in the collections of major museums including the National Gallery of Modern Art, New Delhi.