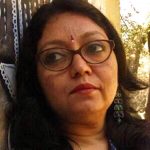 Born : Born in 1965.
Education : Pampa completed her B.F.A. in Painting from Kala-Bhavana, Visva-Bharati University, Santiniketan in 1982-87 and M.F.A. in Printmaking from M.S. University, Baroda in 1987-89.
Scholarship : She received a Commonwealth Scholarship to Study at the Slade School of Fine Art, London in 1991-93 where she received an M.A. in Fine Art.
Workshops and Group Shows :
She has also conducted workshops at Leeds City Art Gallery in UK and at art centers in New Delhi. She was the artist-in-residence at CAMAC, Centre d Art, Marnay-sur-Seine, France in 2001. She has held nine solo shows at New Delhi in 2003, 2004, 2001 & 1994; France in 2001; Kala-Bhavana, Santiniketan in 2001 & 1996 and Heath Street Gallery and Royal Overseas League, London in 1993. She has participated in numerous group shows.
Award :
She has been awarded with Junior Research Fellowship in Visual Art, by Department of Culture, Govt. of India in 1996-98, Lalit Kala Academi, Scholarship in 2001 and French Govt. Scholarship for Residency at CAMAC, France in 2001.