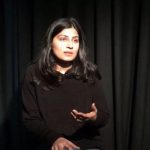 Interested in human figures and the movements which are encountered by the body. It is the most beautiful sight to witnessthe human body in action and at times it is capable of doing things beyond imagination.To me it is the ultimate form of expression; as much as one can express simply through one's gestures, body movements and posture; sometimes even words fail to do that.
Her current works are inspired by acrobatics as her believe that the body experiences full freedom of movement during any such activity.The high energy gymnasts attract me as much as graceful ballet dancers. Sometimes her try to capture certain energetic moves performed by acrobats and sometimes just a position holding onto which requires years of experience and practice; and her try to freeze that moment in time.
The figures in my works are very raw.The focus is always on the anatomy rather than the facial features (which I try and dull out to an extent).I want my compositions to speak to the viewer as soon as one catches a glimpse and for that I pay close attention to aesthetics in my works. For me everything comes after it.
The color black is very close to me.It plays a very important role as I work with a lot of shades of black.I believe it helps me in bringing rawness to my compositions.
Born on 7Th October 1993.Having completed my higher studies from Uttar Pradesh I moved to Delhi in 2010 for my graduation. I have been painting since then. Originally a painter,I have been practicing in New Delhi for past 9 years.Its been 4 years since I've been sculpting.My works are about the human body in motion. The flexibility and movement of human figures interest me. I try to capture the same in my sculptures. Most of my works are inspired by acrobatics as I believe the body experiences full freedom of movement during any such activity.
Work mostly in metals like aluminium,brass and mild steel because it brings the much needed robustness to my compositions.
I have participated in a number of exhibitions some of which are : India Design ID 2020, NSIC Grounds, Okhla, New Delhi; GAAF'19, Museum of Goa; Collective Possibilities, Lokyata Art Gallery, Huaz Khas; Live Unbound (Group Show) at Modern Art Gallery (2019), Chanakyapuri; Yarn (Group Show) at Visual Arts Gallery, India Habitat Centre (2018); When the caged bird sings (Group Show) at The Lodhi by Apparao Galleries and Anant Art (2018).
Gymnasts
Being a gymnast means having the strength to hold on and the courage to let go.
Through this work of mine I talk about balance and trust.I try and explore the beauty of codependent relationships amongst individuals.