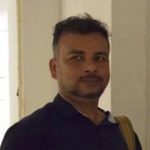 Born :1972.
Education : Post graduate in sculpture from B.H.U.
Solo exhibitions :
2005 - Kalakriti Gallery, Hyderabad in , 2002 - Gallerie Alternatives, Gurgaon, 2000 - Gallery Ganga -Tat, Varanasi.
Group exhibitions :
2006 - Aakriti Art Gallery, Kolkata. 2006 - 'Summer Show' 2006 at CIMA Art Gallery, Kolkata, 2005 and 2006 - Harmony show, Mumbai. 2000 - 'Young Faces of Contemporary Indian Art', Birla Academy. 2000 - Group exhibition in ABC Gallery, Varanasi.
Workshops : on Dokra Sculpture.
Awards :
2006 - 'Young Emerging Artist in Sculpture' at Harmony Show, Mumbai 2001 - 'Dhoomimal Memorial Award 1997-98 - 'Governor's Award' for best exhibit in annual exhibition of Govt. College of Art & Craft, Calcutta.
Style : A master mental caster who largely works with bronze, Tapas works are distinctly different not only from others but from each other too! He has perfected the art of creating large sculptures that take space but are relatively light. Tapas is experimental and every work greatly differs from another – some can be horizontal works while many are upright, but they all spread out taking space with effective hollowness. He loves to play with shapes, forms and lines and often integrates human figures with natural forms such as leaves and flowers.
Tapas, a very skilful sculptor, believes in playing with shapes, forms and lines and adding a bit of traditional tinge to his creations, it has a folk touch. Subjects are frequently revisited; his sculptures of landscapes are breath-taking. They are delicately made, giving them a poetic touch. They invite the spectators into its works. The sculptures give an impression that they have been very patiently made and creatively thought of. He uses a lot of natural forms like leaves and flowers. The mainstay of his works is meshes and figurative nets. His creations have a lot of figures in it, they are full of human activities, narration and urban struggle. His sculptures are a beautiful mesh in which one would want to get lost, a beautiful puzzle one would want to be intrigued by and a beautiful thought one would want to be immersed in.