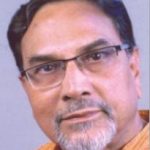 Born :1943, Kolkata.
Education :
1965 : Graduated from the Govt. College of Art and Craft, Kolkata with a First Class in Fine Art.
Studied Modern Method of Printmaking (Graphics), Atelier 17, Paris, under S.W. Hayter and Krishna Reddy.
Also studied Art-monumental (fresco), cole Nationale Superieure des Beaux-Arts, Paris under Prof. Bertholle.
Shows & Exhibitions :Participated 29 solo exhibitions in Paris, Norway, Kolkata, New Delhi and Mumbai including National exhb., Lalit Kala Akademi, New Delhi ; Exhb., All India Fine Arts and Crafts Society, New Delhi ; Indian Printmaking Today and Indian Drawing Today, organised by Jehangir Art Gallery, Bombay ; 6th Triennale India, Lalit Kala Akademi, New Delhi in 1986 ; Salon de Mai-Paris Salon de Grabado-Madrid, Cagne-sur-mer, Jeune Gravure Contemporaire, Paris in 1970, 71 ; Biennale of Prints, Seoul and Ljublijana & Manifestations, organised by Delhi Art Gallery, World Trade Center, Mumbai and Delhi Art Gallery, New Delhi in 2003.
Also participated in many other group shows in India and in Spain, Germany, France, Iceland, Luxembourg, Portugal, USA and Norway.
Art Camps :
1984 : Prof. Paul Lingreens Printmaking workshop, Calcutta. 1990 : Multi-media Camp, Simla, organized by Central Lalit Kala Akademi, New Delhi.
Recognition :
1969-71 : French Govt. Scholarship for higher studies in Paris. 1971 : Fellowship, Royal Norwegian Govt. to do research in Graphics at Atelier Nord, Oslo. 1975 : UNESCO Fellowship, for higher studies in Television Graphics at the Canadian Broadcasting Corporation, Montreal, Canada. 1998 – 2000 : Senior Fellowship in Visual Art from the Department of Culture, Ministry of Human Resource Development, Govt. of India, for a period of 2 years.
Awards :
1970 : Awarded at XI Salon Internationale de Juvisey, Paris ; 1972 & 73 : AIFACS, New Delhi ; 1972 : Mahakoshal Kala Parishad, Raipur, Madhya Pradesh; 1977 : Hyderabad Art Society, Hyderabad.
Style : Tapan Ghosh`s works capture the playfulness of formal elements, with line and colour chasing each other, disappearing and showing up unexpectedly to take the viewer by surprise. He doesnt only simply capture descriptions of the tangible world but enjoys the inventiveness of form making through playful deliberations, exploring the layering process, using instinctive control, often guided by the elements themselves.

Currently there are no works of this artist; write to us and we shall update you as soon as we have something!