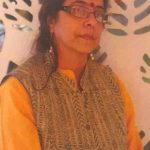 Education :
Graduated from Visva Bharati Santiniketan, 1994
Solo Show :
2001 Domus New Delhi
2003 Krisna's Collection, New Delhi
2017 Emami Arts
Duet Show :
2001 America Consulate Kolkata with Bratin Khan
2016 Arushi Arts New Delhi with Bratin Khan
Art Campus :
Several Art camps including Burdwan Palace, Darjeeling 1998, Protest through Images by Genesis Gallery Kolkata 2003, ITC Welcome Group, Delhi. Rajasthan Mariot 2003, 2004 HUDCO, New Delhi. Hyderabad Dr. Reddy's 2017.
Group Shows :
Academy of Fine Arts Kolkata, Information Centre, Kolkata, Dhoomimal Art Centre, New Delhi, La Mere kolkata, Gallery Katayum Kolkata, Birla Academy Kolkata, Genesis Art Gallery, Habitat Centre, New Delhi, Lalit Kala Academy, New Delhi, International Business Summit, Davos, Switzerland. Cathedral Church Kolkata, ICCR Kolkata. Khusi Delhi, Hyderabad, Mumbai, Concern India, Kolkata, Delhi, Chennai, Mumbai.
Collection :
Jaqueline R Landquist, the Then American Ambassador to India, Artist Manjeet Bawa, Jayashree Mohta, Birla Academy, Sarala Devi Birla and others private collection in Kolkata, Delhi, Mumbai, Bangalore, USA, Hero Honda Group.