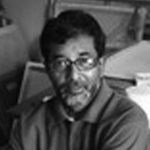 Born: 1954 in Naharkatiya, Assam.
Education: Graduate from Dibrugarh University, Assam in 1976. Diploma in Fine Arts, from Indian College of Arts and Draftsmanship and studied Fine Arts at College of Visual Arts, Kolkata under the tutelage of Shri Shuvaprasanna.
Exhibition Solo: Asuthosh Birth Centenary Hall, Indian Museum, Kolkata; Triveni Kala Sangam, New Delhi; Jehingir Art Gallery, Mumbai; State Art Gallery, Guwahiti; Jaloni Club, Oil India Ltd., Duliajan Assam; Dubrugarh University, Assam; Chemould Art Gallery, Kolkata; and Gallery One, Gurgaon in 2007.
Group Shows: Various galleries at Kolkata, Mumbai, New Delhi, Gurgaon, Pune, Assam, Chennai, Chandigarh and Lucknow.
Recognition: Awarded inseveral institutional exhibitions while a student. Receipent of Seniour Fellowship from the Dept.of Culture, Govt. of India; Award in Sculpture at all India Exhibition organized by Birla Academy of Art and Culture, Kolkata;Received grant from British Council, Kolkata in 2005 to visit the galleries and museums in UK and to intrect with the artists.
Shyam Kanu's works are a part of collections of Individuals, corporate houses and institutions; They are also in the Lalit Kala Akademy, New Delhi and Chitra Kala Parisad, Bangalore.