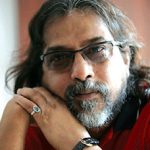 Born :1957 in Kolkata.
Education : Graduated with 1st Class from Govt. College of Art & Craft, Kolkata.
Group Shows :
1982 : Rabindra Bhavan, New Delhi 1985 : At British Council, Kolkata & Academy of fine Arts, Kolkata & "Painters from Calcutta" at Stockholm, Sweden. 1985 & 87 : Jahangir Art Gallery, Mumbai 1989 : Gallery Chemould, Kolkata 1990 & 91 : Sanskriti Art Gallery, Kolkata 1990, 91 & 93 : Gallery BF 14, Kolkata & Artaid, Rotary Club, Galerie 88, Kolkata 1995 : Indian Contemporary Art, Tokyo 1996 : "A Tree my Life", The Village Gallery 1999 : Small Format| Art Today, New Delhi 2000 : Artworld, Chennai ; Colour of the month, Art Today, New Delhi & Seventh Anniversary Exhibition, Surya Gallery, Hyderabad.
Individual Shows :
1987 : At the Academy of Fine Art, Kolkata 1991 : Galerie 88, Kolkata & Jahangir Art Gallery, Bombay 1992 : Gallery Escape, New Delhi 1993 : Galerie 88, Kolkata 1994 : Jahangir Art Gallery, Mumbai 1995 : Galerie Kunst im Kotten, Soligen, West Germany.
Participations:
2010 : 'Go See India', part of India-Sweden Cultural Exchange Program presented by Emami Chisel, Kolkata at Aakriti Art Gallery, Kolkata; Vasa Konsthal and Gallery-Scandinavia, Gothenburg.
Honours and Awards :
Senior Fellowship Award of the Ministry of Culture, Govt. of India (for Painting) in 2000.
Style : His technique is a craft that many want to emulate. There's a liquid fluidity in his canvas, that he can retain irrespective of the medium he is working in. Be it acrylic, oil or water. Although, for close to half a decade he has worked mainly in acrylic. But one thing is for sure and critics and aficionados agree on this that this man is mysterious, away from this world, despite living in it to the fullest.
Sekhar Roy is a painter whose present is built upon the roots he has acquired through his past. For a painter who has been practicing his craft for close to three decades, Sekhar Roy still manages to surprise with his freshness. The morbidity of the initial phase notwithstanding, his works have evolved continuously. Yet, as a craftsman, Sekhar Roy is surprisingly forthcoming, giving one an insight into his secret.