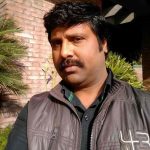 Sanjay Soni is a self-taught artist who through his paintings, landscapes his thoughts and portrays his emotions in the most profound way that they touch the core of one's heart. Sanjay has an amazing ability to capture glimpses of India on canvas – his use of colours is pleasing.
SOLO SHOWS :
2002,LTG Art Gallery, 2005, AIFACS Art Gallery (The Art People Show), Delhi, 2005,Indian Academy of Fine Arts, Amritsar, Punjab, 2005,All Art Exhibition (Wisdom Society, PSK), 2005,Indraprastha Art Gallery, Sept, 2006,Jan & Oct 2006, CAPITOL, The Ashok, Delhi, 2006,April Lokayata Art Gallery (Reflection Society), 2006,Delhi,Sanskar Bharti (PSK), Delhi in Dec 2006 2007,Sept Travancore Art Gallery (The Art People), 2006,Exhibition in Delhi,Travancore Art Gallery, 2007,The Ashok, Delhi, Shanta Art Gallery (Landscape), 2007,Delhi,Shanta Art Gallery (Summer Show), 2007,Delhi, Shanta Art Gallery (Lord Buddha), 2007,Delhi,Canvas Art Gallery (Buddha Mudra), 2007,Delhi,Studio Vasant, 2007,Delhi,AIFACS Art Gallery (Global Warming), 2008,Delhi,Indian Habitat Centre, 2008,Delhi,Open Palm Court (Sahaj Sankalp), 2008,Delhi, Art View Gallery, Haus Khas Village, 2008,Gurgaon Art At The Palm (The Palm Club), 2011,Reflections,Illuminations,Art Zest,Dubai, 2012,Visions,Art Zest,Dubai.
AWARDS/HONOURS :
His works have also been auctioned at Khushi, Kapil Devs NGO.