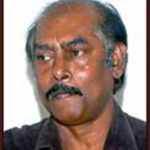 Born :Samir Aich born in 1957, Calcutta.
Education :1978 Graduate from Government College of Arts & Craft, Kolkata.
Solo exhibitions :
2007 - Mumbai, New Delhi & Bangalore; 2007 - "Parallel Facets"; 1994 – Chitrakoot Art Gallery, Kolkata; 1993 – Apparao Gallery, Chennai; 1991 – Jehangir Art Gallery, Mumbai; 1990 – Galerie'88, Kolkata.
Group exhibitions :
2007 - "Collection", Rabi Art Gallery, Kolkata 2007 - "Abstract Markers", Gallery Nakshatra, Kolkata 2006 - Tamarind Art Gallery, New York & Chawla Gallery, New Delhi; 2001 - Trienale, New Delhi & Art of Bengal, Kolkata & Mumbai; 1983 - Academy of Fine Arts, Kolkata; 1981 – Lalit Kala Akademi, New Delhi; Currently he is working as a member of the General Council of Lalit Kala Academy, New Delhi.
Style :
He has been painting almost for three decades now. He started out as a neo-realist and gradually moved into semi-abstract figurative themes. His favourite medium is oil on canvas, but he also does work in acrylic and mixed media. Since the turn of the last century, he has been constantly experimenting with new pictorial concepts and ideas, concentrating on essential structural details in composition, but never exactly throwing the elements of semblance overboard. This is the main aspect among many others that he wants to capture. His sculptures and installations are complimentary to his painted expression.
Samir Aich is a tireless experimenter and has been busy accomplishing apparently impossible things. He has sought to 'figurate' abstract concepts such as the primordial force of Nature, or its earthly counterpart, the animal spirit. Earlier on, his work depicted these concepts in the shape of a variety of awe – inspiring imagery. Such depictions of elemental mass and energy provided the viewer an initial cue to the inner world of this indefatigable painter, he soon shifted his plane of visual expression by endeavouring to accomplish another near impossibility, namely articulating in terms of the black pigment covering virtually the whole of the canvas space.