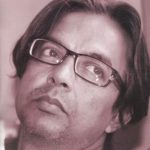 Born :Born in 1963, Kolkata, India.
Education :
Post- graduate diploma in printmaking from M.S. University of Baroda in 1995. Graduated in painting from Government College of Art & Crafts, Kolkata in 1989.
Solo shows :
"Open Ended", AICON Gallery, Palo Alto, California, 2007 Art World, Chennai, 2005 Jehangir Art Gallery, Mumbai, 1996 & 1999 Crimson Art Gallery, Bangalore, 1998 Gallery Leela, Mumbai, 1994 & 1997.
Group shows :
Modern to contemporary , Gallery Kolkata,Kolkata 2007 Two-man show at Jehangir Art Gallery and Gallery Leela Participated in several group shows including the annual show of AIFACS New Delhi Birla Academy of Art & Culture, Kolkata Bombay Art Society, Mumbai "Young Baroda", at Art Today, New Delhi Miniature format show at Sans Tache, Mumbai "Perceptual Reflections", at Ravindra Bhavan, New Delhi "Self Portraits" and "Art of Bengal" by RPG Enterprises at National Gallery of Modern Art, Mumbai.
Style :
In his paintings, the male nude form has fascinated him and has dominated his canvas, he uses this form as a vehicle to express strength and tension. Simple, strong and bold lines create forms infused with colour that are vivacious and very real. The artist tends to draw his male forms in the classical realistic style but this is where the commonality ends. The artist manipulates the image to suit his own convenience. The female form also appears occasionally in Sarkar's work, but almost always sharing the frame with a male counterpart.
Although the artist prefers oils as his chosen media, he also works with charcoal and a combination of both. Influenced by his experiences with printmaking, Sarkar often adapts the etching look on the surface with the use of charcoal. The artist's recent works show a lot of experimentation in terms of technique and representation. Progressing with the times, he has used computer generated images in his recent works to create a more vivid representation of the subjects chosen.