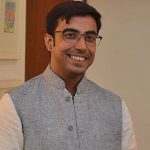 Born : 1979, West Bengal.
Education :
Bachelor of Fine Arts (B.F.A) in Print Making and Graphics from Kala Bhavana, Vishva Bharati University, Shantiniketan, West Bengal (from 1998 to 2003). Five years Diploma in Painting from Rabindra Bharati University, West Bengal, Kolkata.
Scholarships :
National Scholarship to Young Artists in Different Fields for the year 2003-2004. Merit Scholarship from Kala Bhavana Shantiniketan Vishva Bharati University, Shantiniketan, West Bengal 1999-2000, 2000-2001, 2001-2002, 2002-2003.
Solo Show :Fourth Solo Show in Singapore, 2013.
Exhibitions :
Screening Show in Shakshi Gallery in Mumbai, July, 2010. A Group Show in Gallerie Nvya in New Delhi, 2010. " PASSION PLAY " two man show in Sarjan Art Gallery in 2008, in Baroda, India. Three way exchange exhibition with Comferwell College of Arts, LONDON. National Art School, Sydney, AUSTRALIA 2002. An Exchange Exhibition with SAGA ART COLLEGE, JAPAN 2002. Institute of Music & Fine Arts, JAMMU 2002. Annual Group Exhibition, NANDAN ART GALLERY SHANTINIKETAN 2002, 2003. Pradiptta decodes 'The Jigsaw Puzzle Called Passion' through his works.
Style :
Colours and paints reflect the various moods of life. For Pradiptaa, life itself is a kaleidoscope of fleeting images capturing joys and disappointments . Life for him is a Juggler's game whereby games are played out to veil the instincts of human life. The conjurer on the road juggles his paraphernalia to entertain spectators. Such showmanship has become the basis of human existence. Relationships too, as per Pradiptta , have become the game of a juggler and the agility of his hands is perceived as the intricate lore of human passion. Even the mythological partake in the human affairs are an indictment of the primal passion. The mythological events of Gods and Goddesses slaying the demons and proliferating the race of human beings are catalysts of human aspirations and ambitions.
The current bunch of paintings mirrors this human Chinese Chequer, which moves about life as an unguided engine ramming into edifices indiscriminately. The paintings also depict the human scrambling for sensuality and gold – digging. The use of various colours, dark and light, in Pradiptta's work symbolize the inner soberness and fakery. The interplay of mythical and supernatural machinery has been a significant foal of artistic expression in the post – modern art arena like Gabriel Garcia and Salmon Rushdie using "magic realism" and thus must be interpreted as lending authenticity to the disarray and phantasmagoria in which man landed into.

Currently there are no works of this artist; write to us and we shall update you as soon as we have something!