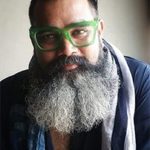 Born : 1974
Om Swami is a Mumbai based artist who has studied at the Raheja College. The beauty of his work is in the fluidity & movement of his subjects. Even in his figurative works where no movement is depicted, one takes one look at the subject & can feel the energy within the painting. Adhering more to a different approach and tenor, the paintings of Om Swami propounds on certain human traits like sensuality and love using bold and thick strokes. The 'She' highlighted in his paintings, to an extent is a comprehensive revision of certain traditional aspects, the archaic women, which has been in the human imagination for a long period of time. His name is associated with paintings with rich imagery,well conceived theme and deligently executed vibrant colors.Though figurative,but contemporary,he has cultivated a style of his own using minimal details.
ART EDUCATION
Self-taught. SOLO SHOWS
2003: Leela Art Gallery Mumbai 2004:India Art Gallery Pune 2005:Nehru Art Gallery Mumbai-"Love Unlimited" 2006:Artist Centre Art Gallery Mumbai-"Love unlimited" 2007:Gallery Hues Bangalore-"Pan Ecstasy" 2009:Jehangir Art Gallery Mumbai-"Love Sutra the Antim Satya" 2009:Gallery G Bangalore-"Satva Swada" 2010:Ray Art Gallery Pune-"11 days of Ganesha"
GROUP SHOWS
2004-2006:India Art Gallery Pune 2005-2012:Vinyasa Art Gallery Chennai 2006:Singapore Art Show 2008:Gallery G Art Show in Houston 2008:Master and Future Masters show in Mumbai 2009-2010:Cymroza Art Gallery Mumbai 2010-2011:Art Summit Delhi with Gallery Cymroza Mumbai. 2011:CCPA Art Show Mumbai 2011:India Art Collective Delhi 2012:Cymroza Art Gallery Mumbai-"Visual Polyphony" 2012:Gallery G presents 9th Annual Show Bangalore 2012:India,Pakistan,Bangladesh Artshow in Bangladesh 2012:CYMROZA ART GALLERY CELEBRATES 40 YEARS OF ARTFUL EXITENCE IN MUMBAI. 2012:HAVE A HEART ,SAVE AHEART. charity show rotary club Bangalore. 2012-2013:ART SUMMIT WITH CYMROZA ART GALLERY IN DELHI. 2012:''BOLD AND BEAUTIFUL" WITH ART ZEST ART GALLERY DUBAI.
COLLECTIONS
All over in India and Abroad.