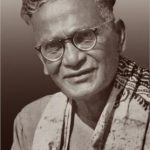 Date of Birth: December 3, 1882 Date of Death: April 16, 1966
Bose drew his early philosophical inspiration from Ananda Coomaraswamy, Sister Nivedita and E. B. Havell, and also from the Japanese painters in Calcutta whose influence led him to the significance of valuing one's artistic heritage. Close association with the Tagores awakened his idealism for a nationalistic consciousness and commitment toward classical and folk art, along with its underlying spirituality and symbolism.
Nandalal Bose was one of those painters who fought against all odds in order to pursue his passion. Unlike many other Indian painters, Bose did not have the support of his family. But the trust he had in his own passion and ability, ultimately turned him into one of the most celebrated Indian painters of the 20th Century. During the course of his wonderful career, Bose also earned the trust and respect of the Indian Government, for he was assigned with some of the most prestigious projects by the Government of Independent India. When it comes to his paintings, Nandalal Bose mostly depicted Indian subjects but was not hesitant to use some of the foreign techniques, especially that of Europe's. Being one of the most favorite students of famous painter Abanindranath Tagore, usage of several techniques became his bread and butter during the course of his tutelage under his master. Nandalal's contribution towards Indian art is immense, for which he was honored with Padma Vibhushan by the Government of India.
Education :
Nandlal was sent to Calcutta in the year 1898 to pursue his high school education at the Central Collegiate School. He was then enrolled at the college which belonged to the same institution. Despite his efforts to convince his parents to enroll him in an art school, he was made to continue his studies at the college he was enrolled at. Quite naturally, he failed to clear his examinations at college and had to change colleges. He then attended Presidency College to study commerce, based on his father-in-law Prakash Chandra Pal's advice. While at Presidency College, he secretly learnt various painting forms like still life, model painting and sauce painting from Atul Mitra, his cousin. He even emulated some European paintings and came up with some of his own. But he hardly could focus on his academics. Finally, he was able to convince his family members after making them understand all about passion and how strong its influence can be on a person's life. He then enrolled himself at the Calcutta School of Art and now began to excel in his academics.