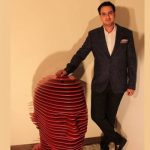 Naman expresses his subjects and thoughts through a variety of art forms like portraits, acrylics, ink paintings, sculptures, and mixed-media installations composed in a plethora of materials including wood, stone, brass, steel, paper, canvas, fibre, resin, and glass. He plays with lights as well in his installations. He is a true artist who does not limit himself to one form and his portfolio includes religious subjects, still life, as well as abstract themes. He is at ease within a traditional as well as a contemporary setting. We can arguably claim his work to be a exquisite melange in essence- a celebration of the various institutions and forms of visual arts.
Naman Mahipal is an Animation and Multimedia student studying at Apeejay Stya University. He is in the final year of his bachelor course.
He is impaired of hearing since birth .It has been said that Life closes one door and opens another. While that may be so – it is not something that is akin to waving a magic wand and things just right themselves. For those undergoing life's challenges – it is a lot of painstaking and sustained effort over a considerable period of time.
He loves painting and sculpture and has been doing it since the last few years. It is his passion for Art that drives him to live life so joyously and inspires everyone around him.
He is a true example of how one can live without begrudging their life and inspires others as well to live with a never back down spirit.
Naman creates value in each & every moment of his life with his art work. The way he leads his life is an example on how beautiful the world actually is and how much fun a person can have no matter what .
Inspired by his own life, he expresses his view of the world through his art in various forms , inspiring every one in the environment around him.