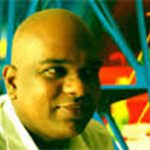 Born : Kerala in 1966.
Education :B.F.A. & M.F.A. In Painting, Kala Bhavan, Shantiniketan West Bengal.
Solo Shows :
National Human Rights conference at M.R.A. Centre Panchagani- Maharashtra 2000 Contemporary Art Gallery, Ahmedabad Presented by Kerala Lalitkala Academy 2000.
Major Group Shows :
Waging Peace, at Arts For Peace Gallery, New York, 2007. The Big Draw exhibition of black and white works, at Crimson the art resource, Bangalore, 2007. 'Rock+music+art' Group show organized by gallery art resource, 2006. Group show, organized by gallery Open eyed Dreams, 2006 Durbar hall, Kochi & Mumbai. 'Paper flute' works on paper at Gallery Espace. Curated by Johny M.L, 2006. 'Waging peace' international Exhibition curated by Troy West and Claudia Flynn, Rhode Island USA, 2006. Three man show with George Martin, Vinay K D at ViART Art gallery, New Delhi 2006. Gandhi Satyagraha centenary exhibition, Travancore art gallery New Delhi and kizo gallery Durban south Africa, 2006. 'Recurrence' exhibition of paintings, New Delhi, 2006. Two men show with Azis T M at Kashi art gallery. Kochi March-2003.
Awards & Scholarships :
Kanoria Scholarship for Print Making –1997. Junior Fellowship, research in fibre art, 97-99, Awarded by Department of Culture, Ministry of Human Resource Development, Govt. of India, New Delhi. Kerala State Lalit Kala Academy award 1997-98. Cultural Scholarship (93/95) Awarded by Department of Culture, Ministry of Human Resource Development, New Delhi. Honourable Mention,West Bengal State Exhibition, Calcutta Information Centre – 1992. Merit scholarship. Kala Bhavan, Shantiniketan 89-94. Round Table 38 Calcutta, 1987-92.