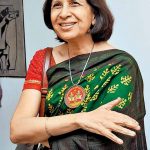 Born : 1947
Education : Meera Devidayal completed her graduation in English Literature from Loreto Convent, Kolkata in 1966. Because art education was not seen as something prospective those days, she had to study art privately. Her formal training in fine art started in 1969 after she married and came to Mumbai. She studied at the Sir J.J. School of Art for three years, and then switched to a part time course.
Art Carrer : Though she started as a painter, her oeuvre has expanded to different mediums. She has also actively participated in many public projects. Her works are characterized by the presence of kitsch and popular imagery as references as a reaction against high modernism of the seventies. Thematically her works address the social concerns of the discriminated and marginalized. Solo Shows :
2014 : 'A Terrible Beauty", Chemould Prescott Road, Mumbai; 2009 : 'Where I Live' Chemould Prescott Road, Mumbai; 2005 : 'Tum Kab Aaoge' (When will you come), Anant Art Gallery, Delhi.
Group Shows :
2010, 11, 15 & 16 : India Art Fair, Delhi; 2014 : 'Field of Vision', Gallery Art and Soul; 2013 : 'Beyond the Canvas', Tao Art Gallery, Mumbai; 2002 : "Brahma to Bapu; Icons and symbols in Indian art" at the Centre for International Art (CIMA), Kolkata; 2001 : 'Kitsch Kitsch Hota Hai', Gallery Espace, Delhi.
Honours and Awards : 2007 : 'Miniature Format Show', Bombay Art Gallery, Mumbai 1998 : 'The Miniature Format Show', Sans Tache, Mumbai.