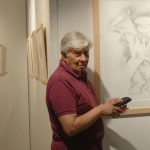 Born :1925 in Lyallpur (now Faisalabad, Pakistan).
Education and Early Life :
He grew up most of his young life in Lahore, leaving to attend secondary school at Imperial Service College, in Windsor, England, graduating and returning to Lahore in 1942. While there, he earned an English degree Government College, before becoming an officer with Grindlay's Bank. Following the partition of India in 1947, his family fled the newly-created Pakistan for Shimla, India, a rupture that would deeply affect the way he viewed the world.
He began attending evening classes at Lahore's Mayo School of Art. His banking job eventually brought him to Mumbai, where his side career as an artist began to take off. By 1961, already in his late 30s, he was able to quit his banking career to become a full-time artist.
Solo Shows :
1955 - Khanna had his first solo show at the USIS, Chennai.
Solo Exhibitions :
2016 - Drawings & Paintings at Vadehra Art Gallery, New Delhi; 2015 - When the Band Begins to Play... at Grosvenor Gallery, London; 2013 - A Celebration of Lines at Sakshi Gallery, Mumbai; 2010 - Krishen Khanna: A Retrospective presented by Saffronart, Mumbai at Lalit Kala Akademi, New Delhi; 2008 - The Savage Heart at Cymroza Art Gallery, Mumbai; 2005 - Krishen Khanna, Saffronart and Berkeley Square Gallery, London; 2004 - An Airing at Pundole Art Gallery, Mumbai.
Group Exhibitions :
1949 - The first exhibition in which Khanna's works were featured was one of this Group's exhibitions; 2013 - Recent group exhibitions include Ideas of the Sublime, presented by Vadehra Art Gallery at Lalit Kala Akademi, New Delhi; 2013 - The Discerning Eye: Modern Masters at Vadehra Art Gallery, New Delhi; 2011 - Masterclass at Dhoomimal Art Gallery, New Delhi.
Awards and Honours :
1962 - Rockefellar Fellowship, 1965 - National Award Lalit Kala Academi , 1965 - Fellowship of the Council of Economics and Cultural Affairs, New York, 1968 - Gold Medal First Triennial of Contemporary World Art, New Delhi, 1986 - President's Award, International Festival of Art, Baghdad, Iraq, 1986 - Gold Medal First Biennale Of Art, Lahore, Pakistan, 1990 - Padma Shri by Gov't of India, 2011 - Padma Bhushan by Gov't of India.
Style :
Most of Khanna's work is figurative; he chose to not explore the abstraction that most of his contemporaries were delving into. Khanna has described his technique as a process of welcoming the unpredictable to achieve something serendipitous, combining calligraphy with chance whilst removing all extraneous figuration and detail from the picture plane. His work has often focused on music and musicians, as though he were trying to capture its undulating rhythms in oil and in two dimensions. He has also dwelled on sacred mythologies, both local and foreign. At the age of six Khanna's father came back from Milan with a copy of The Last Supper by Leonardo Da Vinci, thus initiating a lifelong fascination with Christian imagery.
Bordering on the narrative, Khanna's work captures moments in history, much like photographs do, but the artist's technique is far from photo-realist. Khanna transfers his observations onto the canvas with spontaneity and exuberance, keeping the representational elements of his subject matter intact. The artist's use of colour and his expressionist brushwork make the mundane rise to the challenge of the creative.