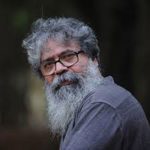 Born : Born 1956, Kerala.
Education :
1979 : B.F.A. in Sculpture, Viswa Bharati University, Santiniketan, West Bengal 1981 : M.F.A. in Sculpture, Viswa Bharati University, Santiniketan, West Bengal.
Solo Exhibitions :
2006 : 'Freehold' at Museum Gallery, Mumbai 'Freehold' at Artalive Gallery, New Delhi 2005 : 'The Ramp' at Tao Art Gallery, Mumbai 'Unbearable Lightness of being' at India International Centre, New Delhi 2004 : 'The Ramp' at Sridharani Art Gallery, New Delhi 'The Ramp' at Bayer ABS Limited Gallery, Vadodara 2000 : 'Musui Maiya' sponsored by Vadehra Art Gallery, New Delhi 1998 : 'Song of the Road' - sponsored by International Travel House, ITC, New Delhi 1997 : Hotel Park Royal, New Delhi 'Portal' - Apeejay Lawns, Calcutta, sponsored by Apeejay Surendra, Group, Calcutta 1994 : Khirkee Gallery, New Delhi 1993 : Centre des Bonds de Marne, LePerreux-Bry sur-Marne, Paris, France 1992 : Studio Khirkee, New Delhi 1987 : Jehangir Art Gallery, Mumbai 1983 : Jehangir Art Gallery, Mumbai.
Participated Exhibitions :
2007 : 'Darpan' an exhibition sponsored by Nvya Gallery, New Delhi Travel to Moscow and St. Petersburg, Russia - sponsored by Nvya Gallery 2006 : Travel to U.S.A, sponsored by Arts India, New York Travel to Russia, sponsored by Art Resource Trust, Mumbai Travel to Morocco, sponsored by Popular Prakashan, Mumbai 2005 : Travel to Istanbul, Turkey to attend artists workshop Travel to China (Silk Route) sponsored by Uttarayan, Baroda Travel to South Africa organised by Gallery Navya, New Delhi 2004 : Travel to Mauritius to attend artists workshop 2003 : Travel to Cairo and other cities in Egypt to attend an artists workshop Travel to France and Italy sponsored by TMI Foundation France Exhibition titled 'Can' curated by Johny M.L Exhibition 'Only connect' at India Habitat Centre, New Delhi Exhibition 'Nayika' by Ganesha Art Gallery, New Delhi 2002 : Travel to Thailand to attend the artists workshop at Pataya 2001 : Attended Artist workshop, Coco Palms, Puri, Orissa 2000 : 'Contemporary Woman' at HongKong Visual Arts Centre, HongKong 1999 : International Workshop on Art & Architecture at Khajuraho, sponsored by Orient Express, New Delhi Installed open air sculptures at the TMI Campus, South of France and many others.
Awards :
1985 : Awarded Junior Fellowship, by Ministry of Human Resources, GOI 1981 : Awarded Fellowship from Lalit Kala Academi (LKA), to work at Garhi Studios, New Delhi 1980 : Birla Academi of Arts and Culture at the Annual Exhibition of Art.
Style :
K.S Radhakrishnan is one of the most notable among the new generation of sculptors who has successfully brought about a defenitive resurgence in Indian sculpture.Like many of his contempories he is a figurative sculptor ,but his preference for modelling and bronze casting sets him apart from the rest of them . Recharging age old sculptural processes with a new sensibility , thus is the singular challenge he brings to Indian Sculpture.And this makes him a modernist .