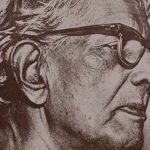 Born :
Jamini Roy was born in 1887 in a village of the Bankura district of West Bengal.
Work and Style :
This area has a long tradition of folk - or "pat" - paintings and indeed Roy himself came from a long line of folk artists, also known as "patuas". Jamini Roy was trained at the Government Art College in Calcutta (a school that to this day trains many of India's finest artists). Despite early success with more conventional techniques and subject matter, by 1925 Roy already had begun experimenting with the Kalighat pat style. This is a style that owes its inspiration to the scroll paintings of the Bengali countryside (used memorably in Satyajit Ray's Goopi Gayin, Bagha Bayin) and was practiced by bazaar painters who plied their trade outside the Kalighat temple in Calcutta.
By the end of the 1930s Roy was almost exclusively using the indigenous materials of the Kalighat patuas and his subject matter too underwent a change.
Award :
In 1934, he was felicitated with Viceroy's gold medal in an all-India exhibition for one of his work. Many more figure studies appear in this period and ve He was honored with the State award of Padma Bhushan in 1955. He was made the first Fellow of the Lalit Kala Akademi, the highest honour in fine arts conferred by the Lalit Kala Akademi, India's National Academy of Art, Government of India. The Archaeological Survey of India, Ministry of Culture, Government of India in 1976 declared his work amongst the 'Nine Masters' whose work was considered 'art treasure'.
Passed Away :He breathed his last on April 24, 1972.