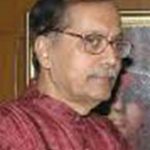 Born : Dwijen Gupta born in 1948.
Education :
Graduated from the government College of Art and Craft, Kolkata, specializing in Applied Visual Art.
Exhibitions :
1997 Chitrakoot Art Gallery, Kolkata; 1999 Nehru Art Centre Gallery, Mumbai; 1999 Academy of Fine Arts, Kolkata, accompanied by celebrated poets of Bengal; 2001 Time & Space Gallery, Bengaluru; 2002 Apparao Art Gallery, Chennai.
Group Shows :
Many group shows in India and abroad, including Singapore, Boston, Dubai, Florence Biennale (2007), and Saatchi Art Gallery (online), UK. Also invited to Beijing Biennale 2009 and other international expos in New York and in Canada. Participated in a workshop in Bangkok.
Awards :
Won the AIFACS Professional Award at the 11th All India Senior Watercolour Exhibitions in 2000. Felicitated by the Public Relations Society of India. Secretary, Calcutta Painters. Has won several awards for 3-D exhibition work, including murals, and has also won awards at the International Calendar Competition thrice.
Style :
Fascinated with human beings and probing different status of human life especially of women.His canvases have made several incisive portrayals of womanhood. His compositions in watercolour, acrylic, and mixed media on tussar silk, paper, and canvas express the unheeded, the unspoken, and the unsung. Died : Dwijen Gupta passes away.