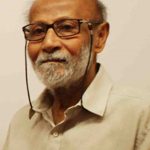 Born : Dipak Banerjee, born in 1936 at Barishal in Bangladesh.
Scholarship : Banerjee received a scholarship from the French Government and worked in Paris and Oslo, where he went on a Norwegian Government stipend.
In the early 60s, Banerjee decided on a career as a printmaker. Says Banerjee "My immediate reaction was to explore the technical possibilities in this genre. My forms and contents, ideas and intonations were to a great extent influenced by western attitudes. Soon I started contemplating on my own roots and began to pick up the visual elements from my own rich cultural heritage".
Solo and International Exhibitions :
Solo Exhibition About twenty exhibitions in New Delhi, Calcutta, Paris, Oslo, Fredrikstad, Oxford, Valdivia, Santiago, Seoul, Hamburg, Hong Kong, Bombay. International exhibits About nine exhibitions in Tokyo, Sao Paulo,Ljublijana & group show abroad Polland, New Delhi.
Award : Recipient of the National Award twice, besides the AIFACS, U.P. State Lalit Kala Academy Awards, for both his paintings and graphics Dipak Banerjee is an active member of the Society of Contemporary Artists.
Style :
He was gradually drawn to the rich world of mystical religious thoughts, the philosophy of ultimate reality, on cosmic unity. He also drew heavily from the tradition of Tantra, developing his own vocabulary using the circle, square, lotus and yantra designs in his paintings. Banerjee has not got trapped in the ritualistic import of Tantra but he combines it with his interpretations of spirituality and religion.