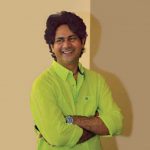 Dileep Sharma was born in 1974 in Rajasthan, India. Having studied a BFA in Painting at the Rajasthan School of Art in Jaipur, he went on to study an MFA in Printmaking at Mumbai's Sir J.J School of Arts.
He has held several exhibitions of his works – solo as well as group shows - and some of them take pride and place in private and public collections. To name but a few (because there are many!), his work has been shown at the Seoul Arts Centre, the Jehingir Art Gallery and the Articulate Gallery in Mumbai as well as other venues in Scotland and the UK.
He also received an Honourable Mention Award at the 6th International Biennial of Print in 2004, as well as an award from the National Lalit Kala Academy at the 10th Kala Mela in 2002.
He regards the utilisation of his chosen art form to be intensely overwhelming and invigorating – the celebration of new thoughts and ideas through print conjoin to reveal a 'visual self-portrait' he was previously not aware of.