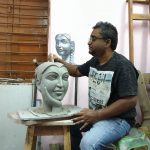 Born in 1973 @ Nellore Town Andhra pradhesh completed his graduation in painting from JNTU Hyderabad in 1996 worked as an Art teacher & Art Director for telugu films , now is working Fulltime artist in Hyderabad Telangana he participated in several group shows in India and abroad.
DVS.Krishna works show a stark inspiration of the Temple sculptures from Andhra Pradesh, he creates such forms that are reminiscent of them but they still encompass a signature, which is definitely personal in character. Thus the forms are a blend of traditional structural patterns and personal expression.
The Fibre glass sculptures by the artist are introspective in nature.The solitary free standing Bust of the protagonist reinstates a meditative, serene and quiet mood.A single bright hue Falls unanimously throughout his sculptures ,and accentuates the facial features to emerge in a soft, glossy and perfect brilliance.