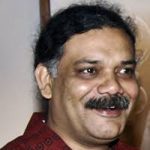 Born : Born in the year 1966.
Education :
After passing out from the St. Joseph's College, Bangalore, joined the Government College of Art and Crafts, Kolkata, from where he had graduated and went to Greece do to a post-graduation from University of Athens, Greece, in Visual Arts with a scholarship from the Greek government in 1988. Later he joined Kala Bhavan at Shantiniketan and took his Masters Degree there.
Solo Shows and Workshops :
His solo show Iconoclash in the year 2005 was curated by Amit Mukherjee in Kolkata. He had attended the KHOJ Kolkata bonding workshop in 2006 where he had produced two site-specific installations and is a member of the same organisation. He has traveled abroad extensively and attended several residencies and countless workshops including "Art of young Bengal.
Style :
Chhatrapati works in a wide range of media including video, performances and installations. His particular fascination for the colonial elements is well-known, so is his interest in 'space'. He joined the Rabindra Bharati University, Kolkata as a lecturer in the Department of Painting but gave up his career as an art teacher only recently.