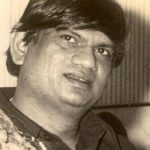 Born : 1935 Vardha Maharashtra
Died : 1992
Education : Sir J.J. School of Art, Mumbai
Exhibitions :
Selected Posthumous Exhibitions
2013 'The Naked and the Nude: The Body in Indian Modern Art', Delhi Art Gallery, New Delhi
2011 'Agape', Hacienda Art Gallery, Mumbai
Born in Maharashtra in 1935, B Vithal studied at the Sir J.J. School of Art, Mumbai. He was an artist who was a master sculptor and painter. While his sculptural works were known for their monumentality his paintings captured the personal and intimate. But in both forms the innate understanding of the human form comes through very strongly. This is not surprising as he studied at the Sir J.J.School of Art, which lay emphasis on the study of the human form through it's live model studio classes, it is also a school that is filled with large sculpture casts of the Greek and Roman sculptures. It was also here that he met his wife and fellow artist B Prabha. They were married in 1956 and had a joint show of their works in the same year.
Vithal mostly painted on large canvases and handled the entire surface with ease. His canvases are not precursors to his sculptures; his ability to switch from the 3 dimensions to the 2 dimensions is noteworthy. Vithal played with his canvases, he moved them all around, working on them from all directions, creating unusual in textures and depths. Horses, musicians, nudes, and people of Maharashtra are some of the most painted subjects by the artist. While he is know for the bulls, which exuded sheer power and force, his paintings of the horse he is more playful and experiments with their form and translating it in 2 dimensions.
Vithal who lived and worked in Mumbai passed away in 1992.