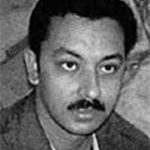 Born : Born in 1969 in Hoogli, West Bengal.
Education :
Arunanshu Chowdhury studied art at the Faculty of Fine Arts, Maharaja Sayajirao University of Baroda, acquiring both his Bachelor's and Master's degrees in Fine Art there. Later moving from his native Bengal to Gujarat, much of Chowdhury's body of work bears testimony to the changing role of the city.
Solo Shows :
Arunanshu Chowdhury has had several solo shows, the most recent of which include 'Wind in the Willows' at Anant Art Gallery, New Delhi, in 2008; 'Probabilities of Occurring' presented by the Guild Art Gallery, Mumbai, at Gallery Sumukha, Bangalore, in 2007-08; 'Palimpsest – A Journey Through Time' at Anant Art Gallery, New Delhi, in 2005; 'Falling Up' at the Guild Art Gallery, Mumbai, in 2001; and 'Veneered Images' at Prithvi Gallery, Mumbai, in 2000. His work has also been a part of numerous group shows including 'Vicissitudes of the Constructed Image' at Tangerine Art Space, Bangalore; 'Life is A Stage' at the Institute of Contemporary Indian Art (ICIA), Mumbai; 'With the Best Intentions' presented by Anant Art at Shridharni Gallery, New Delhi, all in 2009; 'Hot Shots' at the Viewing Room, Mumbai; 'Freshly Squeezed: The Young Indian Contemporaries' at Suchitrra Arts, Mumbai, both in 2008; and 'High on Art' at Visual Art Gallery, New Delhi, in 2007.
Award : Chowdhury was honoured with the Ravi Jain Foundation Award, New Delhi, as well as the Elizabeth Greenshields Foundation Grant, Canada, in 1995.
Style :
Having spent most of his life in Baroda, Chowdhury's art confronts urban violence in a manner which does not shock, but rather leaves a lingering feeling of vulnerability, almost haunting the viewer. Playing with the idea of historical memory, Chowdhury's work can be called a reaction to acts of extreme violence. While the Gujarat riots were a nodal point in his art practice, the controlled nuclear tests at Pokhran in Gujarat only heightened the possibility of further violence leading to increased anguish for the artist. While the current political situation does influence him and his art practice, Chowdhury also comments strongly on the frivolous nature of contemporary society, the unnatural need to belong and the societal pressures are all mocked on his canvasses.
Highlighting the spectator-like role of the civilian, Chowdhury introduces the motif of the rickshaw – the most common mode of transport in Baroda, as a silent witness to urban atrocity. Other everyday objects, like the barber's chair or a rocking chair play protagonists in his paintings, which teem with narratives but are unable to speak. Elaborating on his art he says "By juxtaposing several images, creating movement and a haze of memories, I have tried to animate the jumble of life, the fast pace and imposition of material things in my recent work."

No products were found of this seller!