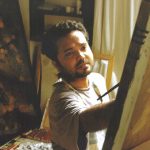 Born : Born in 1970.
Education : Graduated in Fine Arts from the Government College of Art and Craft, Kolkata, and obtained a Diploma from Visva-Bharati, Santiniketan in 1977.
Participation and Solo Shows : Participated in the Triennial held in New Delhi in 2005. Has held several solo shows of his work. His work is in the collection of the National Gallery of Modern Art, New Delhi, and several private collections.
Award and Scholarship : Recipient of the Silver Prize in the Drawing and Design Exhibition, Kyoto Art College, Japan, the Birla Academy Annual Exhibition Award, the H.K. Kejriwal Memorial Award, the Navonmesha Puraskar, and the National Cultural Scholarship in painting from the Government of India.