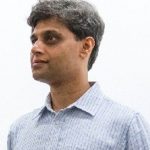 Born : Adip Dutta born in 1970 in Kolkata.
Education : Adip received his Bachelor's degree in Sociology from the University of Calcutta in 1994.
He then went on to receive another Bachelor's degree and a Master's degree in Fine Arts from the Department of Sculpture at Rabindra Bharati University, Kolkata, in 1998 and 2000 respectively.
Dutta also served as a member of the Faculty of Visual Arts at his alma mater, Rabindra Bharati University.
Solo & Group exhibitions :
Dutta has participated in several solo and group exhibitions around the country as well as internationally. Solo shows of his work include 'MAN – NAM' at Aicon Gallery, London, in 2007; 'The Mould Confronting a Snake - The Theatre of the Absurd' at Project 88, Mumbai, in 2006; and 'Installation in Sculpture' at Art Heritage, New Delhi, in 2003. Group shows in which his works have been featured include 'Works on Paper – 2012' at Gallery Espace, New Delhi, in 2012; 'Lost for Words' at Art Musings, Mumbai, in 2012; and 'Enduring Legacy' at Akar Prakar, Kolkata, and Neumeister Gallery, Munich, in 2011.
Award : In 2002, Adip Dutta received the Charles Wallace Scholarship to study in the United Kingdom. He was also honoured by the Paul Foundation in 2001.
Style :
Traditional image-making and folk art constitute the core concerns of Dutta's artworks. The Craft Council of West Bengal commissioned him to research the sociological impact of earthenware and terracotta votives in eastern India. Dutta has also worked in a traditional dokra workshop and is a regular contributor to Art India magazine. His work, along with his research, articles and teaching, aims to increase cultural awareness about folk art and traditional art techniques.

Currently there are no works of this artist; write to us and we shall update you as soon as we have something!