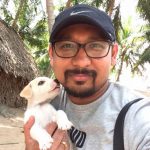 Born : Abhishek Dasgupta born 25th July, 1981 in Kolkata, India.
Education :
2009 Apprenticeship under Mr. Helmut Cons, Miester of photography 2008- Present Art Photography exhibitions Print ad shoots published in various publications in India and abroad 2007- Present Vice president of TINNI Advertising agency, operating with clients like Maruti Suzuki, State Bank of India etc. 2003 – 2007 TINNI Advertising agency active role in marketing and corporate branding, graphic design professional.
Group Exhibitions :
2011 Exhibition with ABC Alphabet Club in Amsterdam and Madrid Exhibition with Gallery Khamaaj-a TINNI Initiative in Art Bengaluru, 2011 In U B City, Bangalore Work represented in Bold Magazine, Germany 2010 Work selected for 'Altered states of reality' 2011 in Agora Gallery, NY 'Art bengaluru' held in U B City , Bangalore 'Chitra Sante' in Karnataka Chitrakala Parishad, Bangalore, India 2009 Participated in privately held group exhibition , Bangalore, India Group exhibition' World as One" in Bangalore , India 'Art for all' in Chitrakala Parishad Bangalore, India 2008 'Portrait Shots', a photographic exhibition by True Colors, Bangalore.
Style :
Abhishek Dasgupta is a passionate photographer who has the inculcated skill to reflect photographic imagery of live characters with exuberant empathy and sensitivity. He has won great appreciation by exhibiting in India and aboard. The ethereal sensitivity in his photographs has engaged audiences in New York, Madrid, Amsterdam. He has a number of exhibitions in his hometown Kolkata, and his current abode Bangalore.
Abhishek Dasgupta's photographic gaze reveals his keen sensitivities while connecting with his wide range of subjects that evolves into rooted live characters. His birthplace and current workplace India is his true identity, he completely agrees with the Indian ways of a so not complex spiritual understanding of life,'Simplicity is great sophistication'.
Through his photographic gaze we not only experience 'the writing of light' in the sound technicalities but also the illuminating light reflected from within his subjects which seems to gaze towards the onlooker. The beauty of his imagery is the simplicity of his composition which portrays his joy in capturing and observation of the natural characters oozing various emotions through the various appearances of his subjects and its environment. A widely traveled, life enthusiast Abhishek Dasgupta showcases his images for us to pause and reflect how breathtaking the world is …His images though easy to relate has a continuous subjective narrative of a journey not defined but a destination stated.

No products were found of this seller!