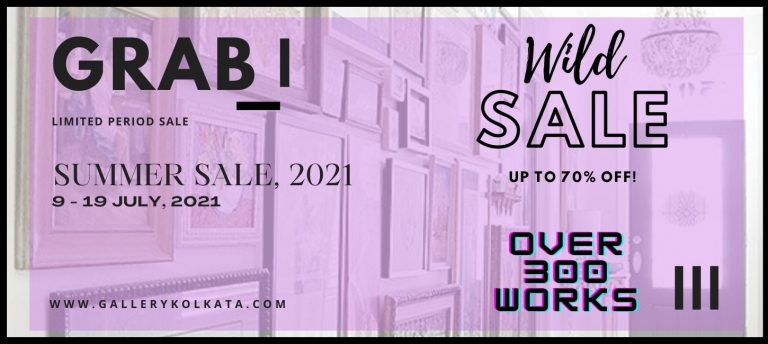 Staying true to our mission enabling to assist the young & small budget art lovers to possibly own the very best of Modern and Contemporary art; Gallery Kolkata presents GRAB.
To enable us to enrich the society with more art lovers and collectors, we bring forth the perfect opportunity for any art collector to choose from over 300 great artworks of master artist, mid career artists as well as top emerging artists.
Price Points : They start from as low as 5000 INR or 75 USD.
Selected, hand picked, works of professional emerging and mid career artist for as low as INR 5000, 7000, 10000, 15000 et al.
How can we offer these prices ?
Gallery Kolkata has been collecting art since over past 20 yrs. We have a huge collection of artworks which are perhaps priceless.
With artists no more (unfortunately; we do miss all our senior artists we had the good fortune to interact with on a personal level ) or the living artists no longerpainting few of the series they use to, and then again commanding much higher prices for the same size of artworks now, their works become out of reach for an average small budget art lover/collector.
That's where Gallery Kolkata steps in . We assit by offering our collection SANS any normal gallery commission charges. What more, we have also reduced prices of the artists from their original prices to bridge that big price Gap which stands between an art lover and a work of their choice.  Thus we reach YOU ! Our young art lovers, our collectors with smaller budgets and new 1st time art lovers too can easily indulge without burning a hole in your pocket . 
Now original art costs you less than a dinner . 
Works by leading mid career contemporary artists like TV Santosh,  Prasanta Sahu , Pratul Dash, Birendra Pani, Mahajabin Majumdar, Pampa Panwar, Sajal Sarkar, Laxman Aeley , Chandra Bhattacharya are up for GRABS !  More traditionally inclined artists like Ramesh Gorjala and  various leading figurative artist like Yugal Sharma, Subrata Das, Shyamal Mukherjee, Gouranga Beshai, Sanatan Dinda, Sukanta Das, Sekhar Kar, Dewashish Das are available for as little prices as you can imagine. Starting at 5000 INR only.
Leading master artists like Husain , Bikash Bhattacharya, Badri Narayan, Jogen, Sunil Das, Suhas Roy,Prakash Karmakar, Bijon Choudhury, Kishen Khanna, Sakti Burman ,Somenath Hore, Rabin Mondal, KG Subramanyan, Sanat Kar, Ganesh Haloi, Ashok Bhowmick, Ramananda Bandopadhaya,  Amitabh Sengupta, Partha Pratim Deb, Anita Roy Chowdhury, Shuvaprasanna, et al at  unbelievable prices.
So what are you waiting for, GRAB !
When 9-19th July  | Where: www.gallerykolkata.com
Hurry to find your gem, and don't forget to share with your friends ! 
See how they might look on your walls
Be Sure to Scroll till the End. There are Hidden Gems at Amazing Price Points scattered all across ! There is no order to the GRAB SALE . So let the hunt begin ! 
From Master to upcoming talents; Each work would add value to your Collections and Lives. Be sure to share with your friends and other Art Lovers ! 
       Terms of Sale
Please follow the prices mentioned .

No further discount is possible

. (Prices have been very carefully calculated to pass on all benefits to our patrons )
INR prices are for Indian Deliveries 
Avail our

Free Shipping and Packing Across The World Over Purchase value of INR 100000/- ( USD 1500 ) purchase 

Nominal Shipment costs will be added to purchases below the above mentioned value to avail our free shipment offer.
All dispatches will be done post exhibition.
     So, What other costs do you pay over the mentioned Prices in this show ?        
A GST of 12 % is applicable to all Indian Deliveries. 
Shipping Costs below Purchase of INR 100000/- ( or USD 1500)
If you want to receive Framed Works :  Framing Costs , Packing and Shipment will not be complimentary for both Domestic & International  shipments , even of your purchase is over INR 100000/- ( USD 1500 ) 
However all charges , framing, packing and shipment are heavily discounted and nominal. We pass on all special rates to our esteemed collectors.  
Custom Duties of your individual country of import.There are no import Duties to countries like UK, Europe  and USA on Art.
However custom duty charges are separate and they are being charged by customs during this pandemic , varying from USD 30 -100
Do be sure to find out the respective duties on Art HS code 9701 , in your individual countries. 
---
     Payment Methods
We prefer Bank Transfers , Both Domestic and International . Ie. RTGS , NEFT or Direct Wire. 
Why ? a) It is the safest and fastest way to get the funds across to us. b) There are negligible Bank Charges c) We want to save on the heavy transaction fee that platforms like Paypal and others attract. 
Credit Cards , Drafts , Cheque and Other methods of payment are acceptable too.
Credit Cards both Indian and Foreign will attract the transaction fee. India 3% , International 5.5% ( Paypal) 
Ask us for our simple credit card links to buy with the click of a button.
Authentication & Provenance :  Kindly read
Since its conception Gallery Kolkata has worked in the Primary Markets, i.e we get work from the artist and make them available to the collector . Such that most works carry an artist certificate along with it . 
However since our growing collection and the significant price rise in art, we were forced to look at works from collectors who wanted to sell some of their old collection for want of newer works. Thus we could obtain them for YOU , our dear collectors, at great prices, and make it available for you . 
But don't worry ,each work is verified by our team of experts consisting of Art critics , top artists , writers who wrote on the particular artist and traced their work. So we know each and every piece offered to you are not only Unique , of Great Quality, Rare, At Great Prices but also the most original.
Gallery Kolkata in turn certifies each art work that we sell. So go ahead, buy with the confidence of knowing we got your back!